Trained immunity: mechanisms in vaccination and infection
Radboud University Medical Center and Radboud Center for Infectious Diseases, Nijmegen, the Netherlands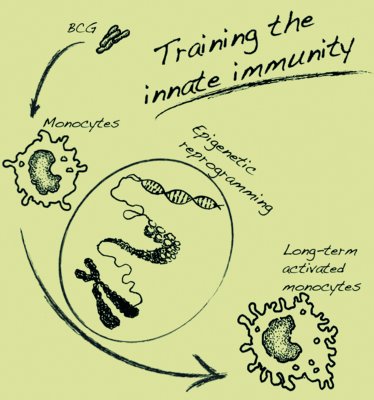 Research topic
The innate arm of the immune system has been generally regarded as primitive and non-specific and, in contrast to adaptive immunity, not to possess memory. A growing body of evidence demonstrated recently that innate immunity has an important capacity to adapt, a de facto innate immune memory. Our group proposed the term trained immunity, and demonstrated its role for the broad non-specific protection against infections.
Although the phenomenon of trained innate immunity (TRIM) is undoubtedly beneficial in the context of recurrent infections and vaccination, it might be detrimental in the context of chronic inflammatory disorders that are driven by chronic activation of the innate immune system. We have developed several models of trained immunity in-vitro, using both entire microorganisms (e.g. C. albicans, BCG) or purified microbial components (e.g. –glucan, MDP). In addition, we demonstrated the capacity of these training stimuli to induce non-specific protection to infection in murine models. Finally, we have shown that certain vaccinations in humans, such as BCG vaccination, can induce long-term changes in monocytes of vaccinated individuals, and that this induces protection against unrelated pathogens.
Our groups aims to investigate several important aspects regarding trained immunity:
We work towards identification of the interplay between immunological signaling, changes in cellular metabolism, and epigenetic reprogramming, necessary for the induction of an efficient trained immunity response
We want to understand variability of trained immunity responses induced by vaccination at a population level
We perform functional studies to potentiate trained immunity responses, and thus improve the efficacy of vaccines.
Through the combination of these approaches, we aim that in the coming years there will be improved understanding of the pathophysiology of infections and immune-mediated diseases, and this will contribute to novel ways to diagnose, prevent and treat diseases.
Group members
Mihai Netea, MD, PhD, professor in experimental internal medicine
Leo A.B. Joosten, PhD, professor in inflammatory diseases
Reinout van Crevel, MD, PhD, professor in global health
Jos W.M. van der Meer, MD, PhD, professor of internal medicine
Rob Arts, MD, PhD student
Bas Blok, MD, PhD student
Simone Moorlag, MD, PhD student
Charlotte de Bree, MD, PhD student
Valerie Koeken, MD, PhD student
Vera Mourits, MD, PhD student 
Selected Publications
Netea MG, van der Meer JW.Trained Immunity: An Ancient Way of Remembering. Cell Host Microbe. 2017 Mar 8;21(3):297-300
Arts RJ, et al. Glutaminolysis and fumarate accumulation integrate immunometabolic and epigenetic programs in trained immunity. Cell Metab. 2016;24:807-819.
Arts RJ, et al. Immunometabolic Pathways in BCG-Induced Trained Immunity. Cell Rep. 2016 Dec 6;17(10):2562-2571
Novakovic B, et al. β-Glucan Reverses the Epigenetic State of LPS-Induced Immunological Tolerance. Cell. 2016 Nov 17;167(5):1354-1368.e14
Netea MG, Joosten LA, Latz E, Mills KH, Natoli G, Stunnenberg HG, O'Neill LA, Xavier RJ.
Trained immunity: A program of innate immune memory in health and disease. Science. 2016 Apr 22;352(6284):aaf1098
Bekkering S, Blok BA, Joosten LA, Riksen NP, van Crevel R, Netea MG. In Vitro Experimental Model of Trained Innate Immunity in Human Primary Monocytes. Clin Vaccine Immunol. 2016 Dec 5;23(12):926-933
Arts RJ, Joosten LA, Netea MG. Immunometabolic circuits in trained immunity. Semin Immunol. 2016 Oct;28(5):425-430
Leentjens J, et al. BCG Vaccination Enhances the Immunogenicity of Subsequent Influenza Vaccination in Healthy Volunteers: A Randomized, Placebo-Controlled Pilot Study. J Infect Dis. 2015 Dec 15;212(12):1930-8
Arts RJ, Blok BA, van Crevel R, Joosten LA, Aaby P, Benn CS, Netea MG. Vitamin A induces inhibitory histone methylation modifications and down-regulates trained immunityin human monocytes. J Leukoc Biol. 2015 Jul;98(1):129-36
Kleinnijenhuis J, et al. BCG-induced trained immunity in NK cells: Role for non-specific protection to infection. Clin Immunol. 2014 Dec;155(2):213-9
Netea MG, van Crevel R. BCG-induced protection: effects on innate immune memory. Semin Immunol. 2014 Dec;26(6):512-7.
Buffen K, et al. Autophagy controls BCG-induced trained immunity and the response to intravesical BCG therapy for bladder cancer. PLoS Pathog. 2014 Oct 30;10(10):e1004485
Saeed S, et al. Epigenetic programming of monocyte-to-macrophage differentiation and trained innate immunity. Science. 2014 Sep 26;345(6204):1251086
Cheng SC, et al. mTOR- and HIF-1α-mediated aerobic glycolysis as metabolic basis for trained immunity. Science. 2014 Sep 26;345(6204):1250684.
Kleinnijenhuis J, et al. Long-lasting effects of BCG vaccination on both heterologous Th1/Th17 responses and innate trainedimmunity. J Innate Immun. 2014;6(2):152-8
Kleinnijenhuis J, et al. Bacille Calmette-Guerin induces NOD2-dependent nonspecific protection from reinfection via epigenetic reprogramming of monocytes. Proc Natl Acad Sci U S A. 2012 Oct 23;109(43):17537-42
Quintin J, et al. Candida albicans infection affords protection against reinfection via functional reprogramming of monocytes. Cell Host Microbe. 2012 Aug 16;12(2):223-32
Netea MG, Quintin J, van der Meer JW. Trained immunity: a memory for innate host defense. Cell Host Microbe. 2011 May 19;9(5):355-61
Financial support
ERC Consolidator Grant
Spinoza Grant of the Netherlands Organization for Scientific Research
Horizon 2020 REPROGRAM
Radboud University