Nanobiologic-regulation of trained immunity
Icahn School of Medicine at Mount Sinai, Translational and Molecular Imaging Institute
Research topic
Our research team develops nanobiologics, based on high-density lipoprotein (HDL), that effectively target myeloid cells (monocytes and macrophages) in atherosclerotic plaques, tumors and hematopoietic organs. Using innovative microfluidics technology, we can generate HDL mimetics that vary in shape, size, composition and function, allowing the establishment of a so-called nanobiologic library. HDL nanobiologics from this library can be designed to contain surface payloads, such as pathogen-associated molecular patterns, or core payloads, including epigenetics inhibitors. 
Using this strategy, we have developed myeloid cell-specific nanobiologics that either promote or inhibit epigenetic modifications associated with trained immunity.
In mouse models, we have shown nanobiologics' ability to promote or inhibit trained immunity. Activation of trained immunity, if presented as a host defense mechanism against malignancies, can have unprecedented real-life benefits for treating cancer. Contrastingly, induction of immune tolerance is highly desired in allograft transplantation to prevent rejection, or to treat autoimmune diseases.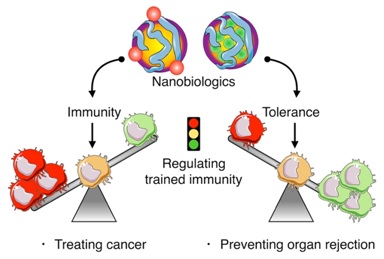 Group leaders
Willem Mulder, PhD, professor in cardiovascular nanomedicine
Carlos Pérez-Medina, assistant professor, department of radiology
Group members
Ewelina Kluza, PhD, postdoctoral researcher in nanomedicine
Bram Teunissen, PhD, postdoctoral researcher in immune-nanomedicine
Mandy van Leent, MD, postdoctoral researcher in cardiovascular immunology
Max Senders, MD, PhD student in cardiovascular imaging
Thijs Beldman, MSc, PhD student in cardiovascular nanomedicine
Bram Priem, MD, PhD student in immune-oncology
Yohana Camila, BSc, technician
Selected publications
Mulder WJM, van Leent MMT, Lameijer M, Fisher EA, Fayad ZA, Pérez-Medina C. High-Density Lipoprotein Nanobiologics for Precision Medicine. Acc Chem Res. 2018 Jan 16;51(1):127-137. PMID: 29281244.
Tang J, Baxter S, Menon A, Alaarg A, Sanchez-Gaytan BL, Fay F, Zhao Y, Ouimet M, Braza MS, Longo VA, Abdel-Atti D, Duivenvoorden R, Calcagno C, Storm G, Tsimikas S, Moore KJ, Swirski FK, Nahrendorf M, Fisher EA, Pérez-Medina C, Fayad ZA, Reiner T, Mulder WJM. Immune cell screening of a nanoparticle library improves atherosclerosis therapy. Proc Natl Acad Sci U S A. 2016 Nov 1;113(44):E6731-E6740. PMID: 27791119
Pérez-Medina C, Binderup T, Lobatto ME, Tang J, Calcagno C, Giesen L, Wessel CH, Witjes J, Ishino S, Baxter S, Zhao Y, Ramachandran S, Eldib M, Sánchez-Gaytán BL, Robson PM, Bini J, Granada JF, Fish KM, Stroes ES, Duivenvoorden R, Tsimikas S, Lewis JS, Reiner T, Fuster V, Kjær A, Fisher EA, Fayad ZA, Mulder WJM. In Vivo PET Imaging of HDL in Multiple Atherosclerosis Models. JACC Cardiovasc Imaging. 2016 Aug;9(8):950-61. PMID: 27236528
Zhao Y, Fay F, Hak S, Manuel Perez-Aguilar J, Sanchez-Gaytan BL, Goode B, Duivenvoorden R, de Lange Davies C, Bjørkøy A, Weinstein H, Fayad ZA, Pérez-Medina C, Mulder WJM. Augmenting drug-carrier compatibility improves tumour nanotherapy efficacy. Nat Commun. 2016 Apr 13;7:11221. doi: 10.1038/ncomms11221. PMID: 27071376
Mulder WJ, Jaffer FA, Fayad ZA, Nahrendorf M. Imaging and nanomedicine in inflammatory atherosclerosis. Sci Transl Med. 2014 Jun 4;6(239):239sr1. PMID: 24898749
Financial support
NWO Vidi 016.136.324
NIH/NHLBI R01 HL118440
NIH/NHLBI R01 HL125703
NIH/NHLBI P01 HL131478